Our Range of Power Wheelchairs
Choose from our range of powerchairs below to view more information.
Extreme X8
Frontier V6 All-Terrain
Frontier V6 Hybrid
Frontier V4 FWD
Frontier V4 RWD
Extreme X8
4x4 Off-road Power Wheelchair
Off-Road and off the map
The Magic Mobility Extreme X8 provides the freedom you've always wanted.
The X8 is your partner to almost any destination. Sand, snow and every terrain you can throw at it. With unrivalled off-road performance and reliability, the X8 is perfect for outdoor adventurers, explorers and rural workers. If the great outdoors is where you want to be, the Extreme X8 is waiting to take you there.
Drive mode: 4 x 4
Motors: 4 x 700W Gear in Line
Environment: Challenging outdoor exploration and rural work
Four independent, high speed, high torque and high efficiency motors

A top speed of 10 km/h (6.2 mph), the motors provide more than just speed. Four high torque, powerful motors enable you to confidently ascend a wide variety of challenging terrain. These highly efficient motors help maximise battery life providing you the confidence to really get adventurous.

Articulating front frame with low pressure knobby tires

Exceptional suspension keeps all four driving wheels on the ground, giving you an ultra smooth and jolt-free ride. Combined with low-pressure off-road knobby tires you'll experience the smoothest ride yet as you traverse the bumps and changes in terrain with confidence.

Unbeatable curb and step climbing ability

The Extreme X8 eats curbs and small steps for breakfast driven by four independent motors, off-road low pressure knobby tires and articulating front suspension.

Color and finish options

Choose from five vibrant colors and three specialized hydro graphics.

Proudly Australian made

Since 1994, we have been designing, engineering and manufacturing highly robust, all terrain powerchairs in Melbourne, Australia so that active users can experience a world that's not flat.

Splash resistant (not waterproof)

Please remember, the wheelchair has electric motors and must not be driven through water, into rivers, creeks or the sea. Magic Mobility wheelchairs meet Australian Standards 3696 and ISO7176.
Brochures and manuals
Magic Mobility produces world-class electric wheelchairs. Download your Extreme X8 product brochure or Owner's Manual here.
Technical specifications
| Feature | Specification |
| --- | --- |
| *Length of base | 1030mm (*legrest choice and seating size may increase chair length/width) |
| *Width of base | 700mm |
| Floor to top of seat pan height | 470mm (490mm with swingaway legrests) |
| Weight limit | 400lbs, 340lbs with lift and/or tilt |
| Top speed | 6.2mph |
| Motors | 68Nm Torque, 700W, Gear In Line |
| Motor IP rating 54 (splash resistant but not waterproof) | The wheelchair has electric motors and must not be driven through water, into rivers, creeks or the sea |
| Wheels | Off-road 14" (145/70-6) black (note silver rims not available in the USA) |
| Batteries | Gel: 70Ahr (C20) - standard, or 90Ahr (C20) - optional upgrade |
| Controller | Penny & Giles controller with LCD display (R-Net) or LED option |
| Legrest options | Centre post, manual elevating, power/manual elevating swingaway, centre mount power elevating |
| Backrest and seat | Adjustable seat pan (12" deep to 24" wide) to fit MPS / Rehab or aftermarket seating options |
| Colours | Additional costs will apply for hydrographic wraps (forest camo, army camo and flames) and custom colors |
| Tie down points | Crash test compliant |
Extreme X8 FEATURES THAT SET THE STANDARD
Packed with genuine all-terrain features that truly respond to whatever adventure you're seeking, from tackling off-road challenges to indoor obstacles.
TAILORED POWER OPTIONS
Customize power options to your life and needs. Travel 6.2mph with 12" lift.
EXPRESS YOUR STYLE
Choose from a range of colors that best suit you and your personality.
AUSTRALIAN DESIGNED
Tough, robust engineering built to suit your terrain.
With a multitude of power, seating and accessory options available, our team of wheelchair specialists and global agents are ready to assist you on your new wheelchair journey. Contact your local agent by clicking the buttons above.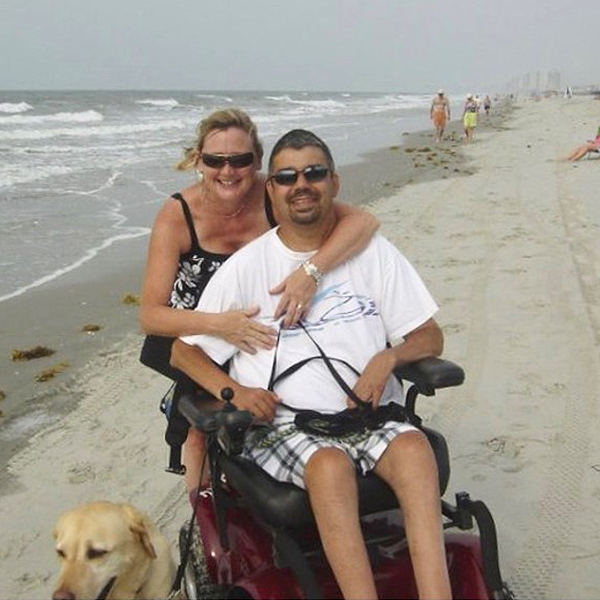 I finally got access to the beach for the first time since I had been injured 20 years before.
- Andy Arnette, North Carolina USA
After getting the chair, a whole new world has opened up!
- David Hill, Texas USA
Freedom, I was able to see parts of the farm that I have not been able to access in 4 years.
- Michael Trost, Maryland USA
The 4WD really works great, it will take me just about anywhere I want to go.
- Kevin St Amant, Georgia USA
As soon as I trialled the X8, it was love at first sight!
- Henry Vivet, France
The chair means I am now able to join in.
- Rob Camm, UK
My wheelchair has allowed me to engage in outdoor experiences with scouts.
- Adam Sevenoaks, UK
I now have the freedom to be very independent and enjoy a more active lifestyle.
- Nicky Gooze, NSW Australia
I love the X8. The steering lock has been much improved compared to my old one.
- Luke Ogden, Melbourne Australia
People see me more because I'm just out more, not just around my house.
- Keith Missinne, Michigan USA
Now, no matter what I throw at it, no challenge is too much.
- Leonie Dean, South Australia, Australia
The Extreme X8 provides me with independence and freedom. Not much stops me now.
- Chris Symonds, Tasmania Australia
It makes me feel amazing. I get stopped by so many people asking about it.
- Jamie Wilson, NZ